Prepare for a world of imaginative crafting escapades with our Jeep SVG Collection! Regardless of your skill level, whether you're a novice or a seasoned custom designer, you'll be thrilled by the diverse assortment of vector illustrations we have to offer. Craft stunning creations, indulge in DIY projects, and adorn your home with our latest SVG files that comprise the ultimate creative toolkit. Our collection caters to all, with free Jeep SVG files for those seeking budget-friendly options and paid designs for those desiring premium quality. Get set to embark on an extraordinary crafting journey that will surpass your wildest expectations!
What is Jeep?
Jeep is an American automobile brand that specializes in the production of off-road vehicles. The brand has a long-standing history and is renowned for its rugged and capable vehicles that excel in various terrains. Jeep vehicles are known for their distinctive design, durability, and off-road capabilities, making them popular among outdoor enthusiasts, adventure seekers, and off-road enthusiasts. The Jeep lineup includes models such as the Jeep Wrangler, Jeep Grand Cherokee, Jeep Cherokee, and Jeep Renegade, among others. Jeep vehicles are manufactured by the American automaker Stellantis (formerly known as Fiat Chrysler Automobiles).
What is an SVG File?
An SVG file, (which stands for scalable vector graphic), is a standard graphics file that is mainly used for rendering two-dimensional images.
One of the most important things to know about SVG files is that they generate clean graphics at any scale.
They're well optimized for SEO (which stands for Search Engine Optimization) and are smaller than other formats. They are capable of dynamic animations.
They are fantastic for so many applications, such as apparel, signs and cutting machines!
How to Open SVG Files?
There are many software choices for opening SVG files. However, we will focus on the options for cutting machines since they are the most commonly used.
Typically, SVG files are compressed within a zip folder and require extraction before they can be accessed.
Before importing our SVG files for commercial in use into your preferred software program such as Cricut Design Space, or Silhouette Studio, … you must first unzip the downloaded file by double-clicking the folder and selecting "extract all."
During the extraction process, you'll be prompted to choose a destination for your files. To avoid difficulty in retrieving them, you can create a dedicated folder on your desktop or computer labeled "SVG files."
It's crucial to keep track of the extraction location since you'll need to access the files again later.
Jeep SVG Files For Crafting And DIY Projects
Before immersing yourself in our complete collection, let's indulge in a preview of some handpicked designs that are currently setting the trends and capturing the hearts of enthusiasts like yourself. Get ready to witness the hottest and most sought-after designs we have specially chosen for you below!
Elevate the personalization of your Jeep to unprecedented heights with this trending vector file. Unleash the power of your cutting machine and bring your creative visions to life with high-quality designs for stunning vinyl decals, perfect for adorning car windows. Whether you're a proud owner of a Cricut Explore or another cutting machine, this SVG cutting file is fully compatible, ensuring seamless integration with a wide range of machines. Prepare to revolutionize your Jeep's style and make a statement like never before!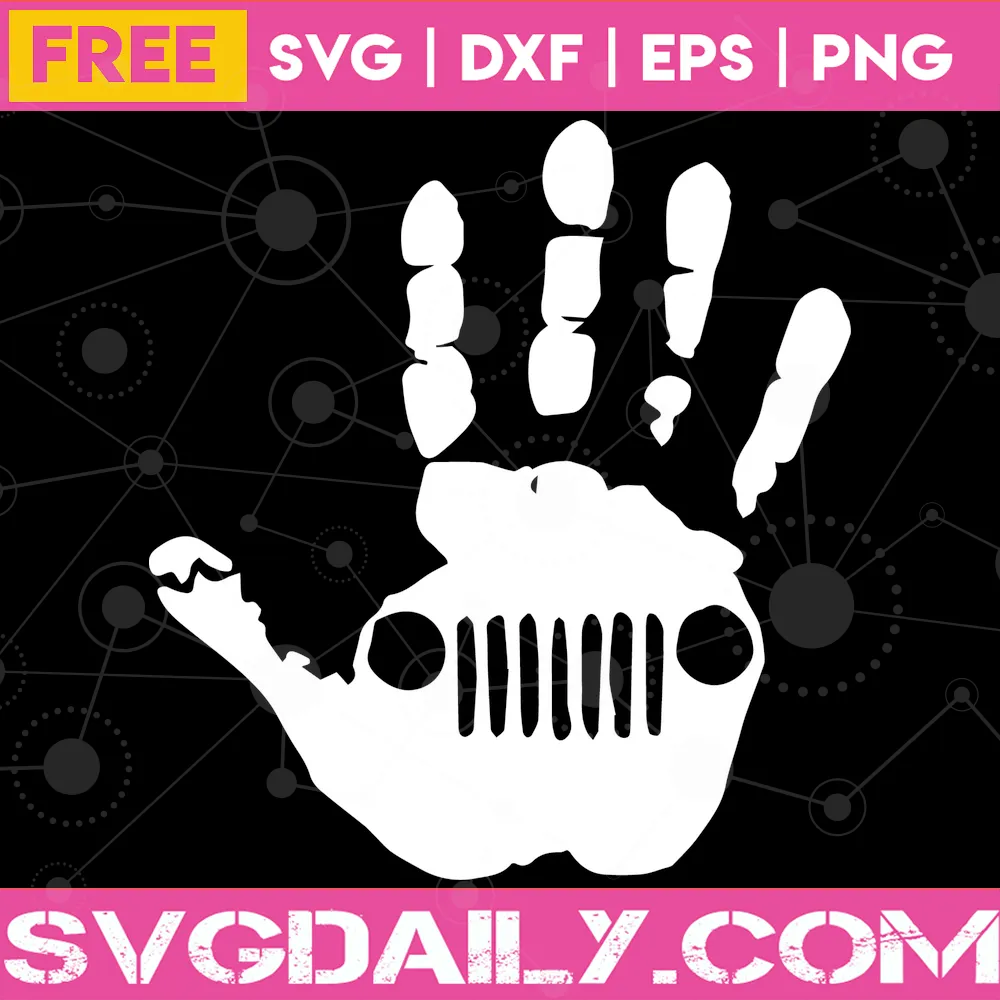 Indulge in the charm of this extraordinary design that beautifully blends the iconic Jeep logo with whimsical dog feet, offering a delightful addition to your crafting repertoire. Whether you're the proud owner of a Cricut machine, an avid DIY enthusiast, or an experienced custom designer, you'll find it effortless to create custom iron-on products, print shirts, and so much more.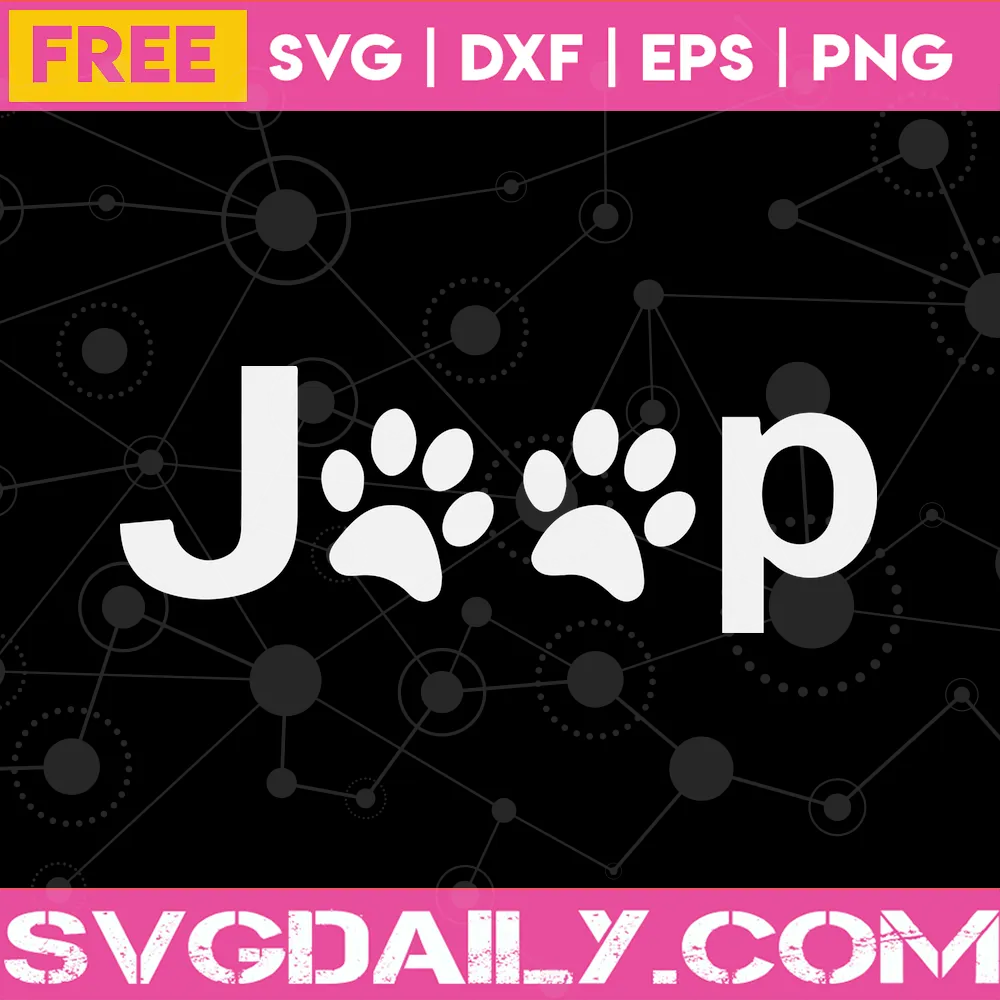 Unleash the spirit of adventure with this popular cut file featuring the iconic Jeep grill design, a must-have for injecting a sense of excitement into your crafting endeavors. Compatible with a range of cutting machines, including Brother ScanNCut and Siser cutting machines, this high-quality design offers remarkable versatility. Let your love for Jeep shine through as you personalize various items, from T-shirts and mugs to tumblers, door signs, and beyond.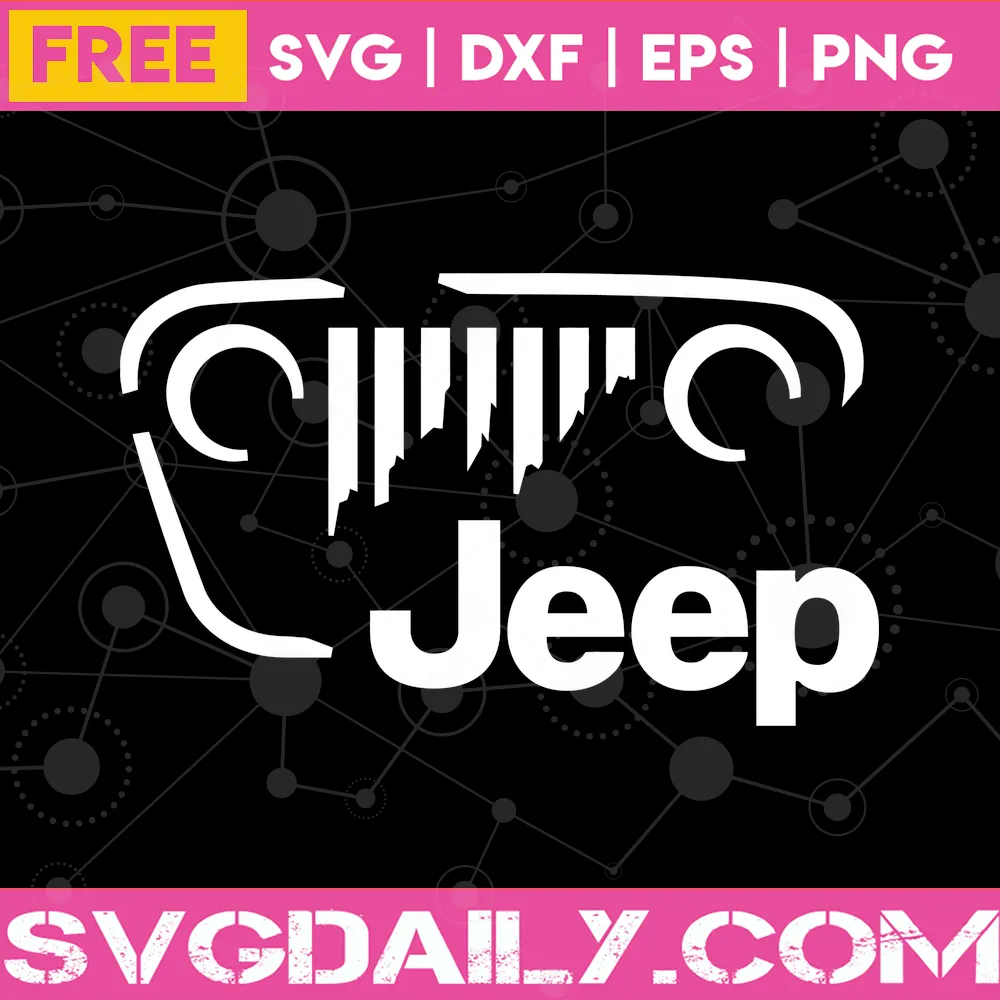 Elevate your print-on-demand business with our must-have creative design. Combining the iconic silhouette of a Jeep grill with the text "Beer," this design is perfect for targeting Jeep enthusiasts, outdoor enthusiasts, and beer lovers alike. Its captivating appeal is sure to attract attention and boost your sales. With easy integration into Cricut Design Space, you can effortlessly create eye-catching products, from print t-shirts to vinyl decals for car windows and beyond. This free SVG allows you to attract customers and increase sales, while its high-quality resolution guarantees impressive final products. Expand your collection with this winning design and watch your business soar to new heights.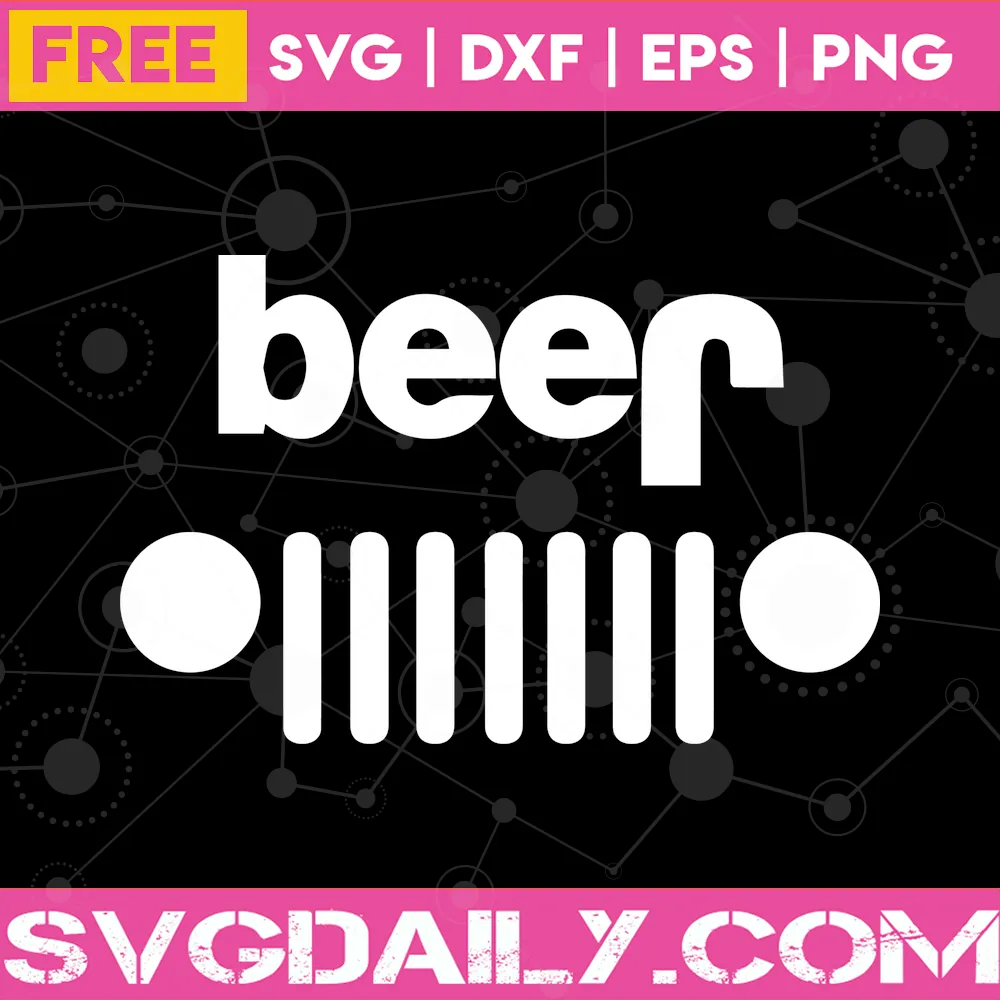 Elevate your Christmas crafting to new heights with our exclusive Jeep Girl Christmas SVG. Whether you're a seasoned crafter or just starting out, this digital design is perfect for bringing holiday cheer to your creations. Compatible with popular design software like Silhouette Studio and Cricut Design Space, you can effortlessly incorporate this versatile design into your projects. From personalized Christmas cards and gift tags to unique ornaments and festive apparel, the possibilities are endless.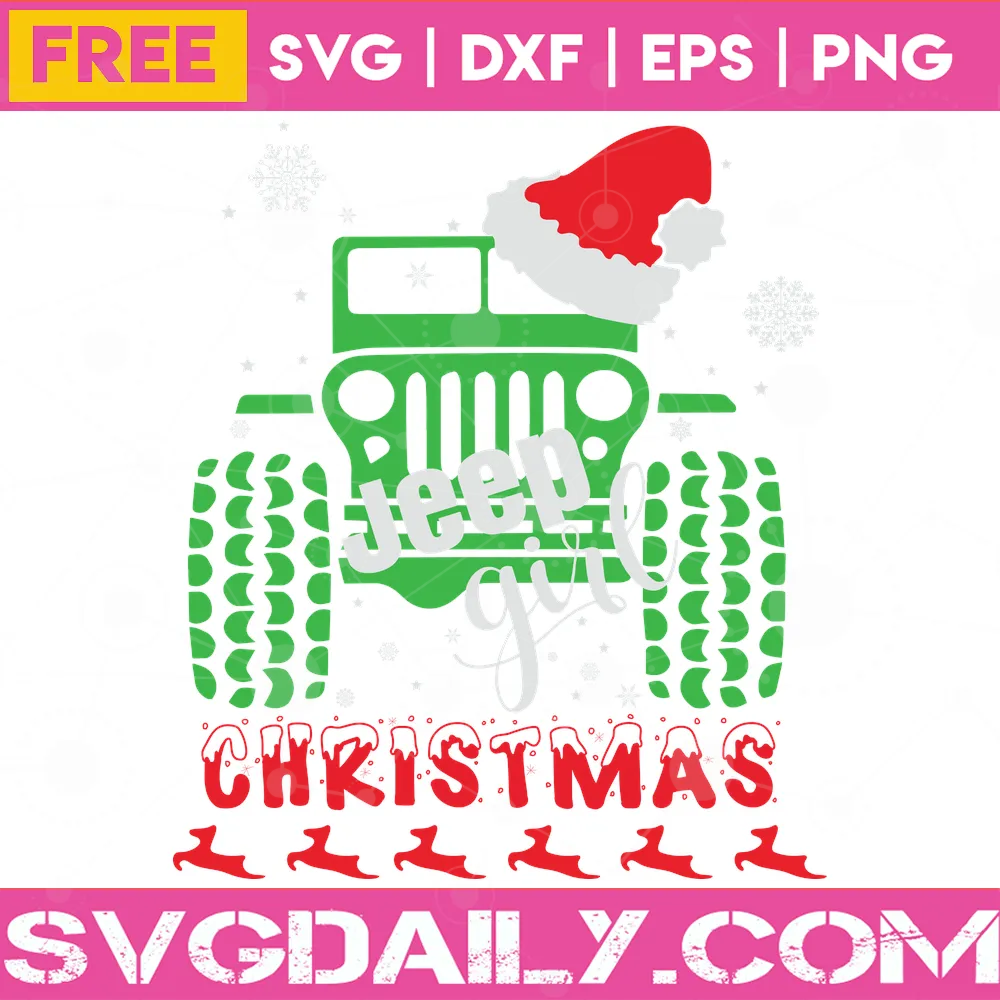 Get ready for an adorable and out-of-this-galaxy adventure with this funny SVG cut file! It features everyone's favorite Baby Yoda, taking the wheel of a Jeep. Perfect for Star Wars and Jeep enthusiasts alike, this SVG file allows you to bring the irresistible charm of Baby Yoda and the thrill of Jeep life to your crafts and creations. Whether you're a Cricut user or have another cutting machine, this design is compatible with a range of devices, making it easy to create captivating designs for custom t-shirts, personalized mugs, vinyl decals, and more.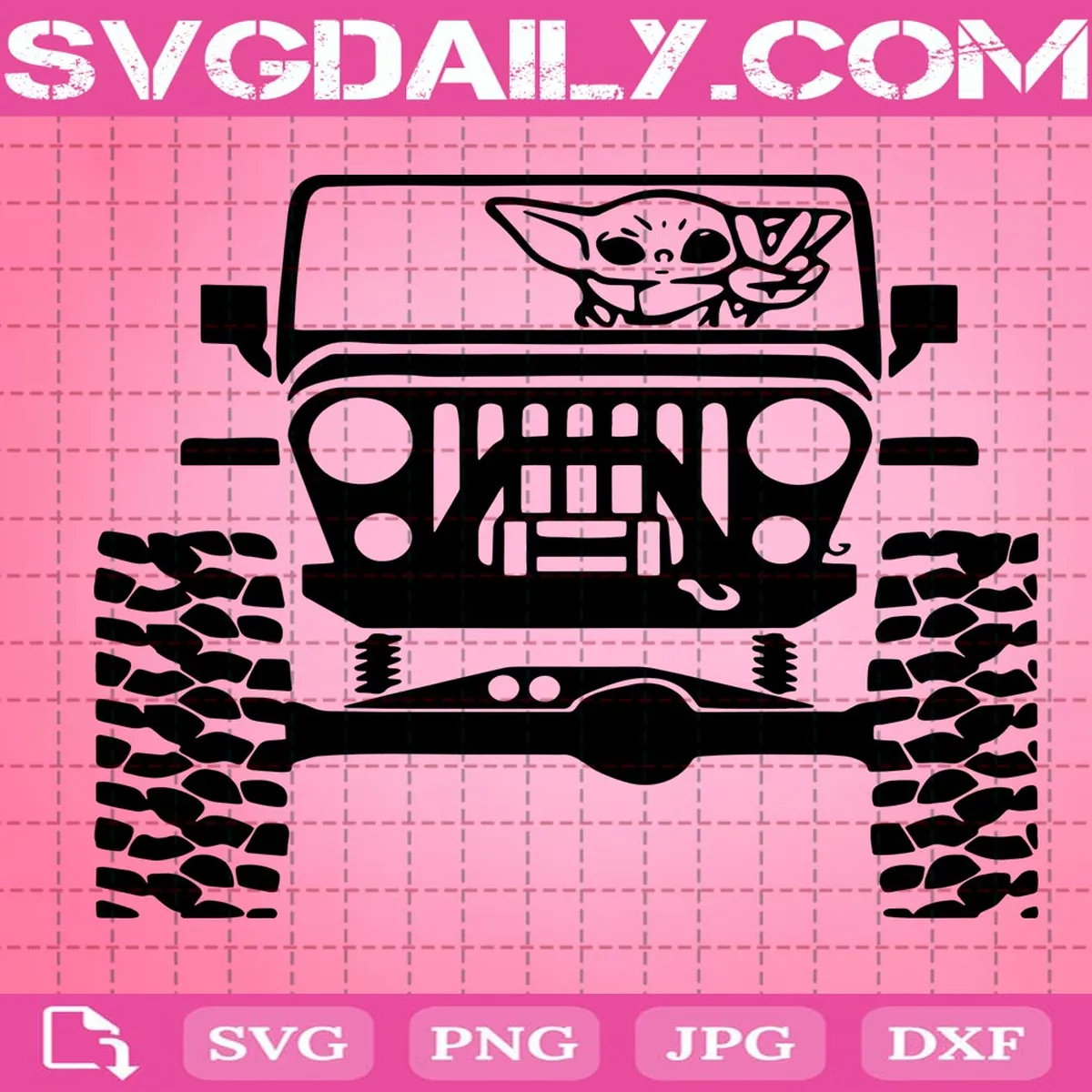 Prepare yourself for a hair-raising Halloween adventure with our incredible graphic design. It features three Jeeps adorned with the infamous Sanderson Sisters' hair, guaranteeing an eerie and thrilling addition to your Halloween crafts and decorations. With its impeccable resolution and versatile format options, including SVG, PNG, DXF, and EPS, this design seamlessly integrates into a wide range of creative projects. Whether you're crafting custom Halloween party invitations, creating creepy home decor, or personalizing trick-or-treat bags, this hauntingly awesome digital file is an essential addition to your crafting arsenal.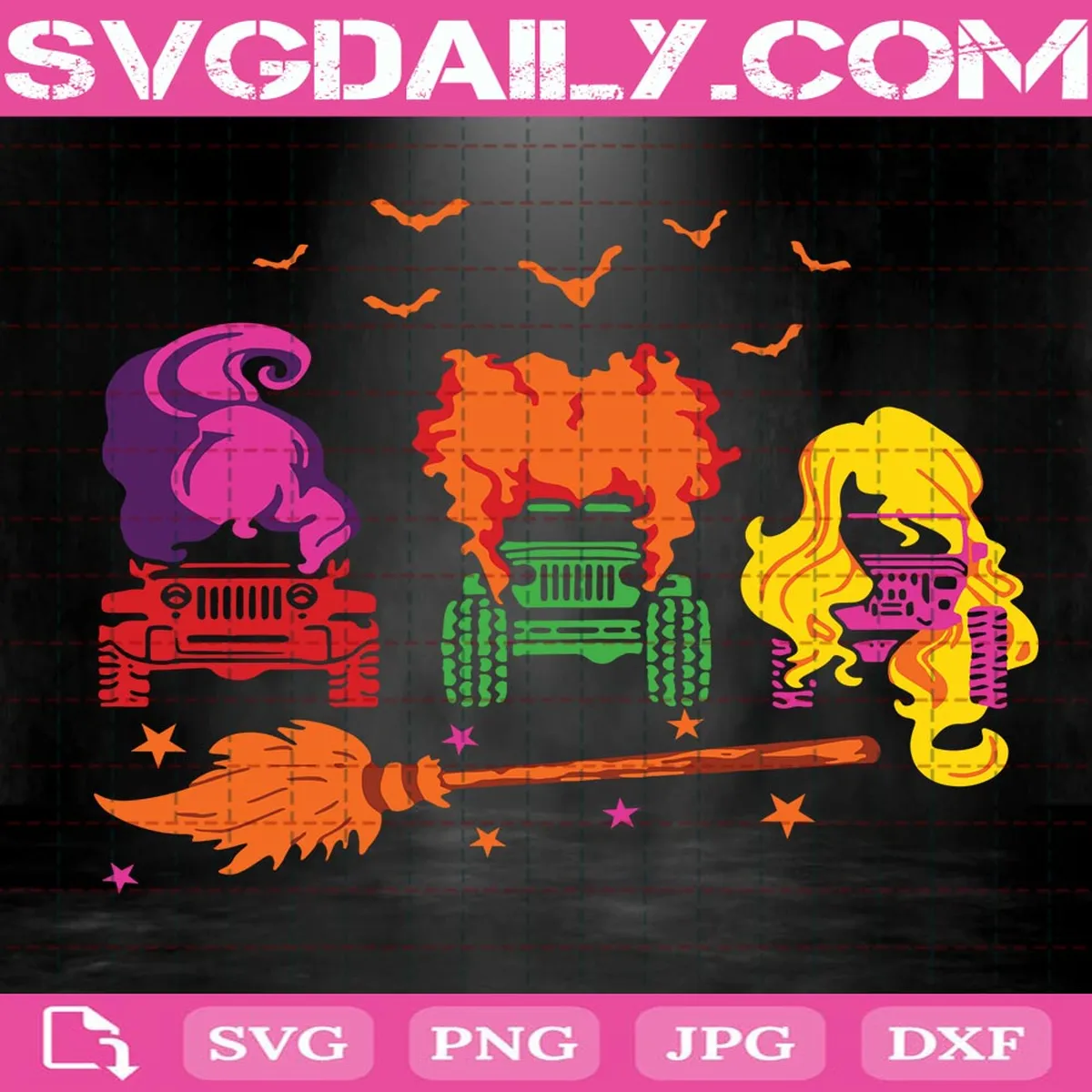 If you're a Jeep enthusiast and a proud American, this high-quality Svg file is tailor-made for you! Featuring a striking combination of a Jeep and American flag silhouette, it's guaranteed to capture the attention of fellow Jeep lovers. Compatible with heat transfer methods and popular cutting machines like Siser Juliet and Dremel Digilab laser cutter, you can effortlessly create professional-looking vinyl decals to proudly showcase your love for both America and Jeeps on your vehicle, accessories, or crafts.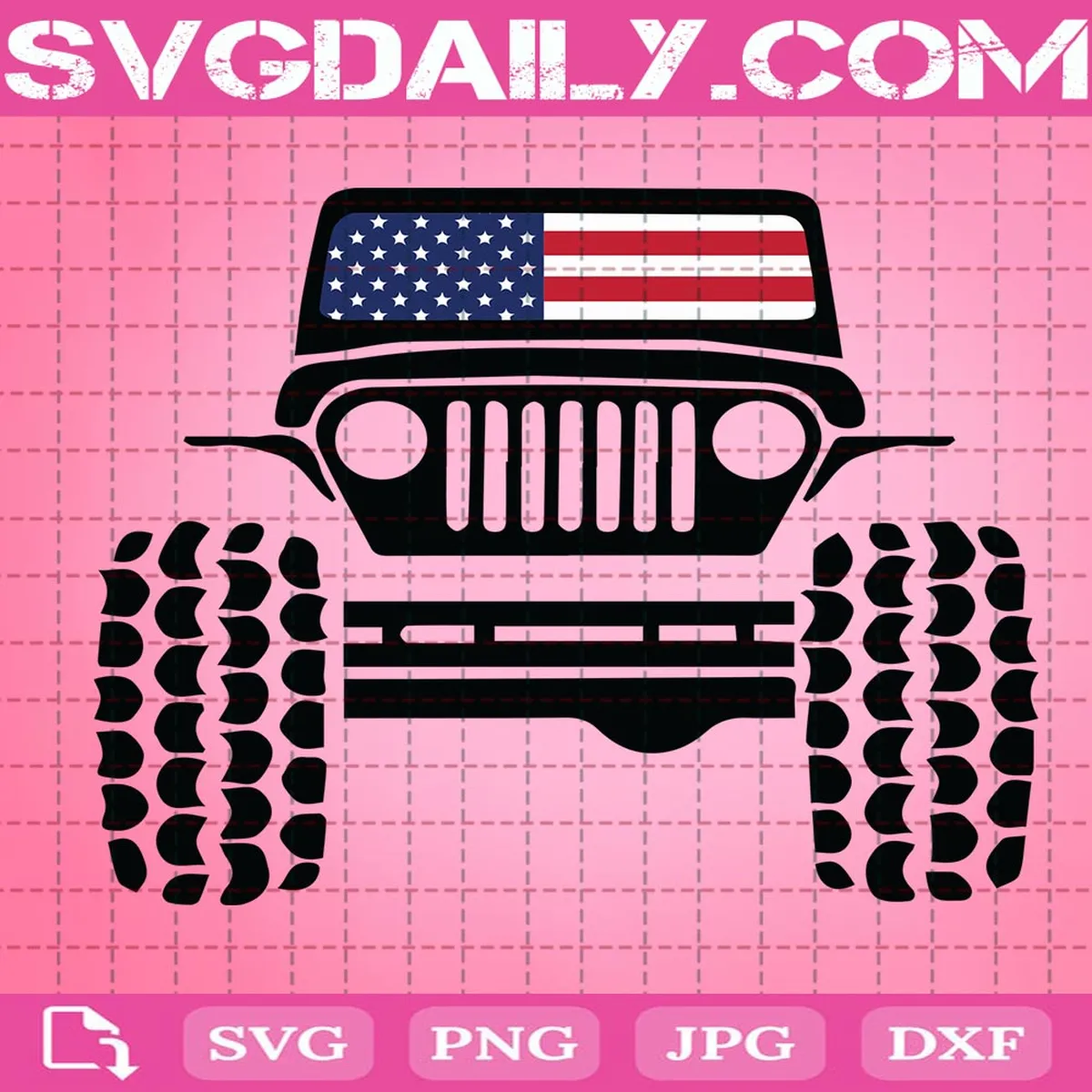 Rev up your creativity with our Real Grandpas Drive Jeeps digital download in SVG, PNG, DXF, and EPS formats. This delightful design comes with a layered file format, enabling you to easily customize and personalize your crafts, adding a truly outstanding and handmade touch. Whether you're crafting greeting cards, designing mugs, creating paper banners, or diving into various other DIY projects, this versatile SVG file is an indispensable addition to your creative toolbox.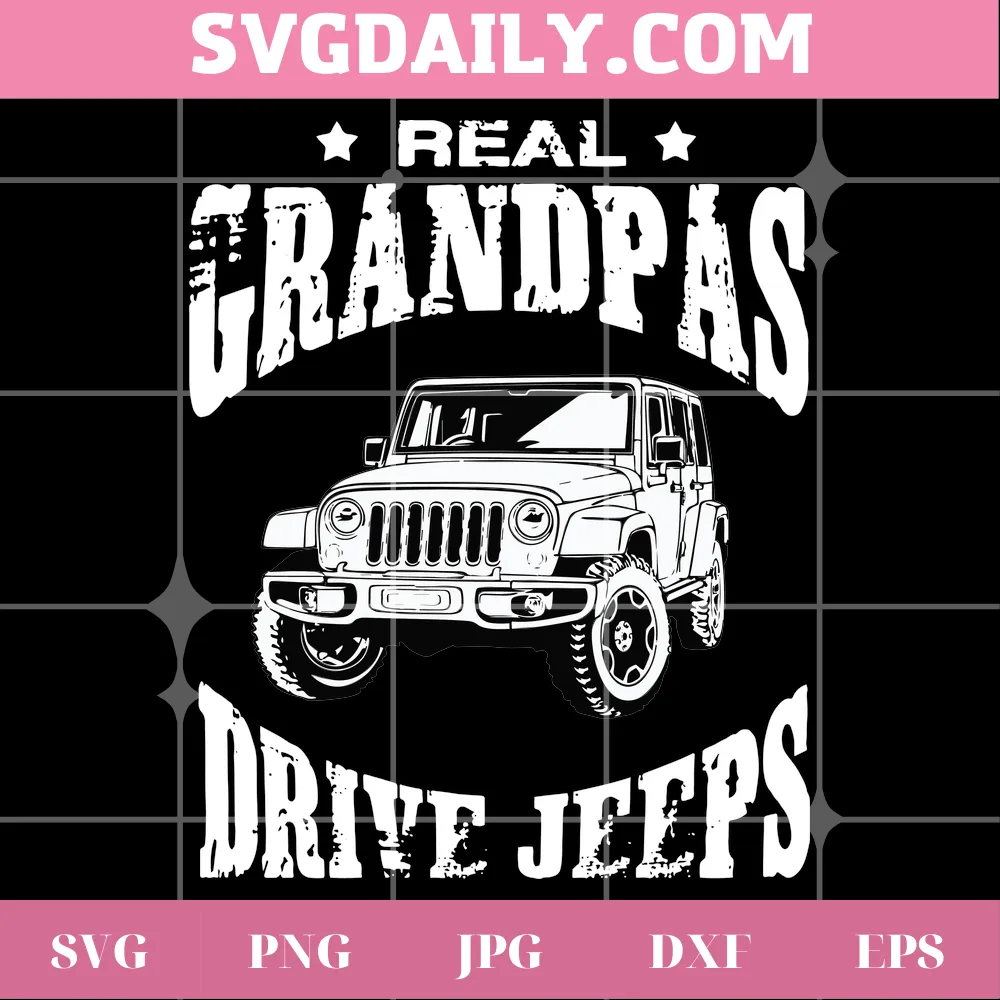 Experience the thrill of Jeep life with our cutting file svg! This high-quality digital design is a must-have for Jeep enthusiasts and adventure seekers. Create acrylic keychains, unique Jeep t-shirts, and personalized gifts with ease using this popular svg clipart. Whether you are a Cricut owner, Silhouette user, or just love DIY projects, our digital file is your ticket to bringing the spirit of the Jeep life to your crafts.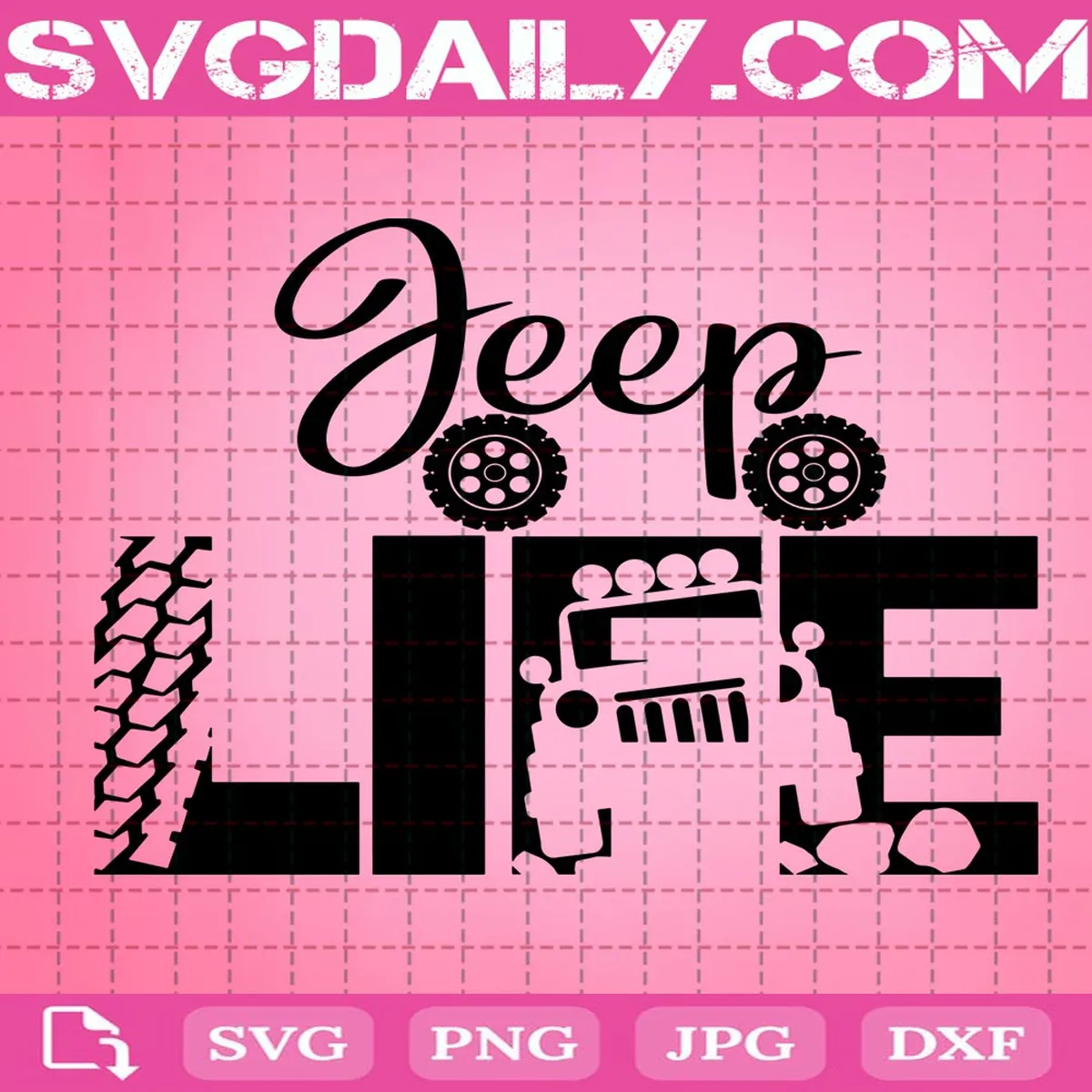 Upon downloading our files, YOU WILL RECEIVE 4 high-quality design files for your next crafting project:
1 EPS file

– Scalable vector, editable file for Adobe Illustrator, Inkscape, Corel Draw (compatible with most cutting plotter software);

1 PNG file

– 300 dpi High Resolution, transparent background;

1 SVG file

– Universal format compatible with Silhouette Studio Designer, Cricut Design Space, Make the Cut, Sure Cuts A Lot, Brother ScanNCut, Cameo and others;

1 DXF file

– Line format for cutting in Silhouette, other cutting plotters or laser engraving machines;
These vector files are fully editable and scalable, providing you with the flexibility to create unique designs that stand out.
We have full confidence that these designs will elevate your Jeep project to extraordinary heights. Whether you're crafting merchandise for passionate Jeep enthusiasts, outdoor lovers, or aiming to embody the spirit of adventure and excitement that accompanies owning a Jeep, our impressive designs are guaranteed to leave a lasting impression. There's no need to delay any further – explore our collection today and breathe life into your creative vision!